Last month's Kitchen and Bath Industry show, where over 1,000 companies exhibited new products, gave insight into the latest trends. This year's kitchen features products that are: earth-friendly; high-tech; colorful; designed for fresh, healthy food preparation; and all about convenience-meets-multifunctionality. Here's a peek at products that embody these top five trends in kitchens...
1. Earth-Friendly
Green is in all over the house—perhaps most of all in the kitchen. Renewable and recycled, environmentally safe, and energy-efficient products abound.
Sustainable Tabletop
Teragren's
formaldehyde-free, food-safe bamboo parquet butcher block, available in natural or caramelized colors, is perfect for kitchen counters and tabletops. Also shown is the company's Studio wide-plank floating floor, which is available in vertical or flat grain; it features TeraLoc, a self-locking system that requires no adhesive. Made with environmentally safe materials from rapidly renewable Optimum 5.5™ Moso bamboo, Teragren products are as green as they are stylish.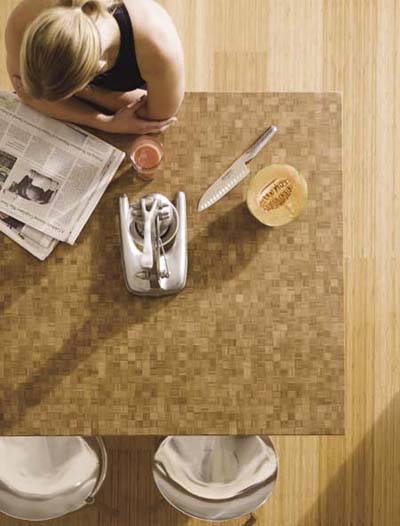 Safe Surface
The EQcountertop from
VT Industries
uses a low-emitting particleboard core, water-based adhesives, and Greenguard indoor air quality-certified laminates (from laminate manufacturing partners) to offer a green, healthy surfacing option. Shown is VT's Nova profile with Wilsonart's mesa gold laminate.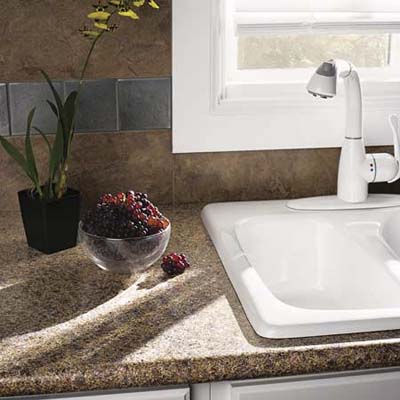 2. High-Tech
The kitchen of the future is here now, chock full of techie elements that meld functionality with fun.

Now You See It, Now You Don't
If you think cleaning your gas stovetop is a drag, you will love Fisher & Paykel's Project Luna stovetop. A frameless piece of 36-by-16-inch black glass supports three individual glass burners that, when not in use, retract flush into the surface. A button prompts them into place for cooking. The Aero burners offer a sparkless ignition and an instantaneous flame, ideal for precision cooking. Due out in the U.S. market next year.
Fisher & Paykel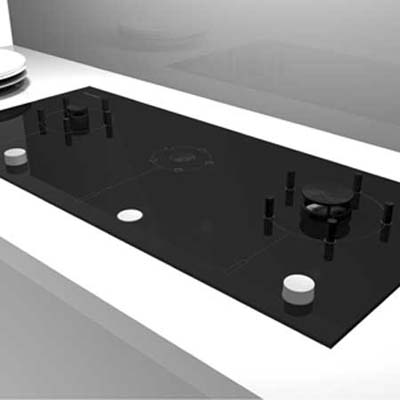 3. Colorful
Stainless steel might never go out of style, but it's sure losing some steam against this year's bright appliance hues.
Dishwasher with Personality
As part of its Preference collection,
Dacor
recently introduced 24-inch dishwashers in an array of colors. A floating glass front panel is available in six colors: anthracite gray, sterling gray, titanium silver, blue water, slate green (shown), and black.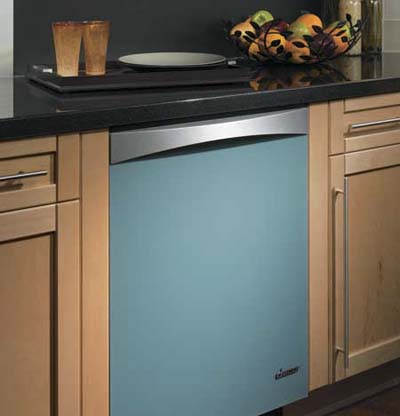 4. Fresh and Healthy
Companies are catering to nutrition-conscious consumers with products that help keep cooking healthy.

Faucet Filter
Enjoy the freshness of filtered water at your own sink with
Kohler's
Carafe kitchen, which integrates a water filtration system. A single-lever operation and 360-degree swivel spout keep it all together in one stylish fixture.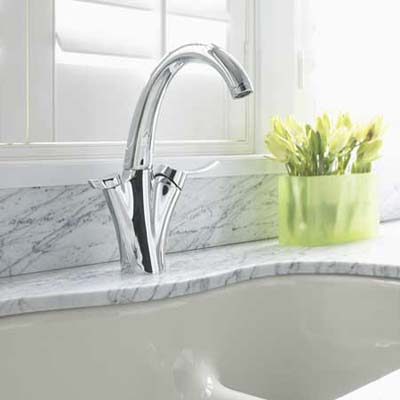 Clean Copper
Copper's natural antibacterial properties make
Native Trail's
offerings especially alluring. The Farmhouse Duet recycled copper sink with a double basin and exposed apron front is available in an antique copper finish (shown) or a new brushed nickel finish.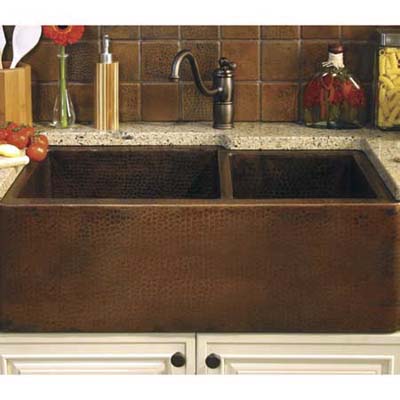 5. Convenient and Multifunctional
This year's products pack it in for multitasking, time-challenged consumers.

Super Sink
A sink is no longer just a sink with
Franke's
new Active Kitchen collection. The Mythos sink system (shown) offers an array of accessories including a flexible, tempered satin glass preparation board, a colander, and drain tray. It is available with Franke's rail system for handle mounted components, a pull-out sprayhead faucet, and a matching Mythos vent hood.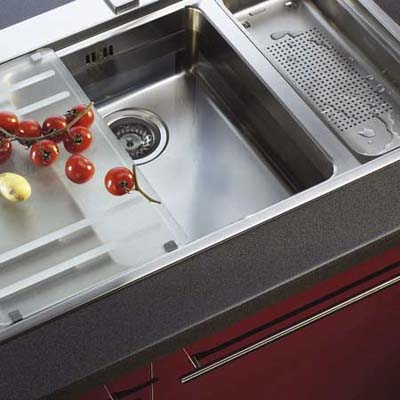 Easy Switch
Satisfy your craving for change with
Broan's
new ready-to-hang decorative backsplashes. These tumbled-marble, pre-assembled fields of tile hang with all the permanence of a picture frame. It's available in four designs, each in a brushed aluminum frame.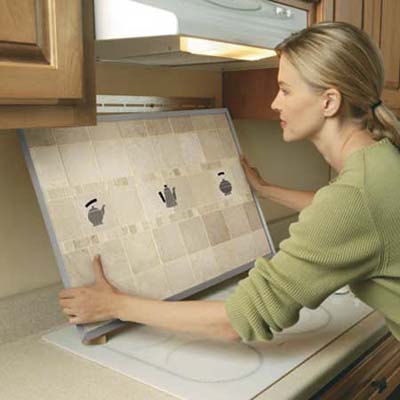 Source:
This Old House
See more
kitchen trends